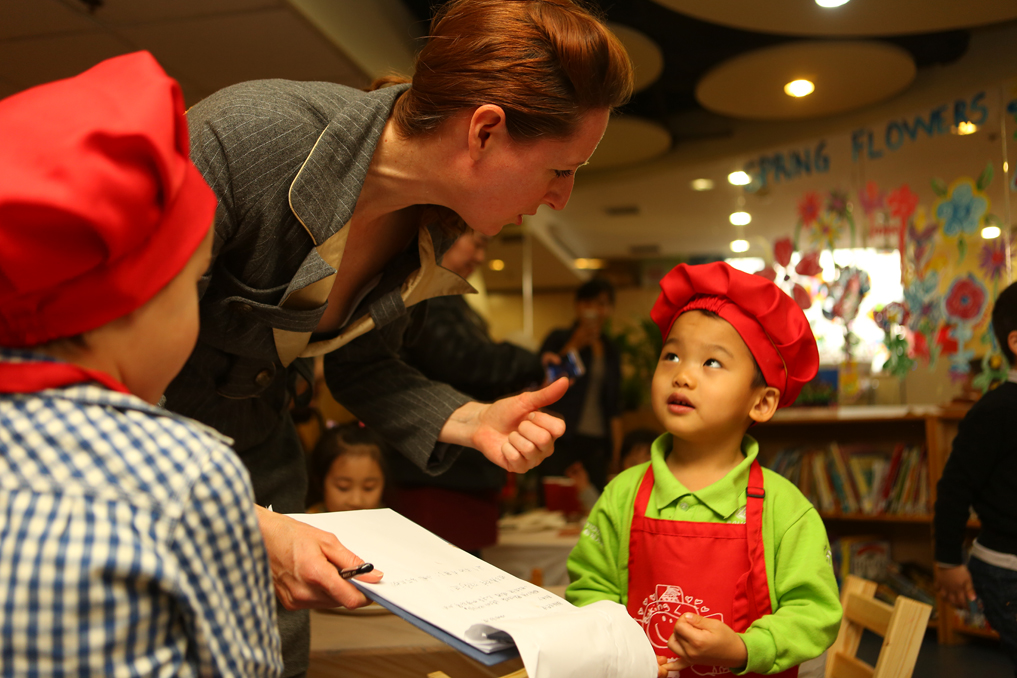 "Becoming an Ivy parent in 2012 has given me full peace of mind that my children are in the best possible care.

Creativity blossoms as the students learn like sponges -- Who am I? The world we live in. How can I help others / the environment?
Besides sticking to the curriculum and preparing children for elementary school, Ivy instills good wholesome values into our children at a young age, prompting these kids to become positive leaders and role models in their society. And all the while, having fun.
My children are lucky to have attended Ivy from the start to Kindergarten. It feels like a family. The teachers and staff always surprise me with their energy, kindness and willingness to go that extra mile for the students, as well as for parents.
Ivy offers informative talks and meetings for parents on relevant topics such as language development for bilingual children to entertaining projects we can do with our kids, like soap making or learning to make play-dough."
Elizabeth Koch
---
I am the parent of Yuhao Xie, who has been studying at IvyMI Kindergarten Three Thousand Castles Campus in Chengdu for over a year. During this time, we all feel that our kid has grown up to be more sensible and independent. He's progressed in various aspects, and this makes our family very happy. We know this is the result of the teachers' love and effort. We sincerely thank the campus director and the teaching team.

Yuhao Xie's parent
---
'"As parents who have been with Daystar Academy for 8 years, our trust in this school comes from the school's values. Although there are many educational philosophies nowadays, it is rare to see a school who really takes virtue as its foundation and sincerely put it into practice. I believe the first priority in educating a child is the cultivation of personality. Academic outcomes and all kinds of skills are meaningful only if there is a basis of growing up to be a qualified person. Daystar has a philosophy which is not necessarily "fashionable", but it is aligned with universal values. This is why we believe in Daystar Academy. Fortunately we've met many parents here who share the same values and philosophy. They are all outstanding that makes us feel honored."

Margaret Zhu, parent of Yoyo Ren (Daystar Academy, Grade 6) and Ann Ren (Daystar Academy, Jasmine's Class)
---
"After visiting Daystar Academy, we knew we had found what we were looking for: the right size, the 'right' fees, the right uniform (yes, it does make a difference), and last but not least, the only truly bilingual curriculum. After four years at Daystar, the objectives we had set for our daughters have not only been met, but exceeded beyond our expectations. Although they were raised in a French speaking environment, our daughters now master English and Chinese perfectly. The international environment of the school has also helped broaden their vision of the world, making them feel at ease and accepting of wherever they go."

— Isabelle Justo (France), mother of Hortense (Grade 5) and Léonore (Grade 3) daystar Academy, Ivy Bilingual School (OE Campus) graduates
---
"The first time I visited Daystar I was impressed by Daystar's unwritten yet palpable curriculum, that love is possible in a group significantly larger than our immediate family or even nationality. After four years, Daystar has instilled in my girls the awareness that the pursuits of human and academic excellence are not mutually exclusive. The girls also communicate efficiently and effectively in both Chinese and English without any inhibitions. The impressive bit is that Daystar has done this in an atmosphere of genuineness and friendliness which have made my girls more open-minded and increased their love of learning."

— Geena Asiedu (USA), parent to Dorothy (Grade 6 graduate), Diane (Grade 5) and Elizabeth (Grade 3)
---
"Our family has 2 boys in the Ivy Academy program, one of which transitioned to Daystar. It has been a joy working with the Ivy staff on their education and growth, as well as making lasting connections with them. Ivy is more than just curriculum. Kids in this program learn how to be people, in highly social environments, and to gain confidence in themselves. Daystar is a rigorous bilingual school, but the staff are patient and willing to help each of their students succeed. We thank all of the instructors and administrators for their awesome attitude in the continued education of our children."

--Alan Wong, parent to Mason (Grade 2-Daystar Academy), and Ryder (Kindergarten, Ivy Academy)